Mentions of new iMac models are buried inside the OS X Mavericks 10.9.4 beta that was seeded earlier today.
There are three new resource files for power management that mention three new iMacs with model numbers beginning with 15, according to some digging done by Pike's Universum (via TonyMacx86). The current iMac line is made up of models 14,1 and 14,2.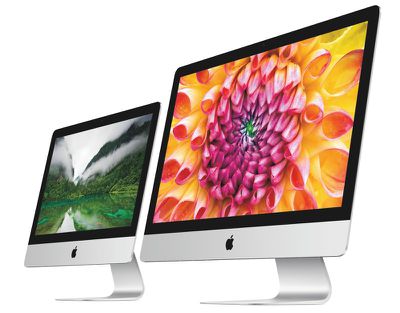 The most interesting part is the addition of three new resources (plist) files for power management:

Mac-81E3E92DD6088272.plist / iMac15,1 (IGPU only)
Mac-42FD25EABCABB274.plist / iMac15,n (IGPU/GFX0/Apple display with id 0xAE03)
Mac-FA842E06C61E91C5.plist / iMac15,n (IGPU/GFX0/Apple display with id 0xAE03)
Rumors have suggested that new iMac models could make an appearance at WWDC next week after shipping estimates for the machine began to slip on the Apple Online Store.
KGI Securities analyst Ming-Chi Kuo stated earlier this year that a lower-priced iMac was expected in mid-2014.
Update 3:30 PM PT: Apple appears to have pulled the 10.9.4 beta from the Mac App Store and Developer Center four hours after it was released. No reason was given for the removal.