Apple In-Store iPad Trade-In Program Now Available in UK, Germany, Spain and France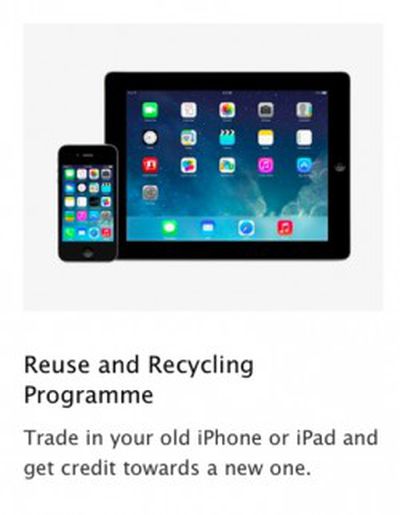 Apple today is expanding its iPad trade-in program to retail stores in several European countries, including France, Germany, Spain, and the UK. As spotted by Apfelpage.de and iPhoneAddict.fr, the program allows customers to recycle older iPad models at their local Apple retail stores and provides them with credits they can use towards the purchase of new devices.
Apple launched the iPad program last month in the U.S. and Canada on Earth Day as part of a larger green initiative to help consumers recycle old iOS devices. Customers can visit Apple retail stores and trade in their iPad 2, iPad 3, iPad 4 and iPad mini for store credit. The newer iPad Air and Retina iPad mini are not yet eligible for redemption.
The company has not revealed how much it will pay for these recycled devices in its international stores, but the pricing likely mirrors the existing trade-in program available in the U.S., with reduced prices for older devices and those in poor physical condition. Though not confirmed, Apple also may accept broken and non-working devices for free, providing a way for customers to responsibly recycle these devices.
The iPad program is similar to an existing in-store iPhone recycling program that debuted in the U.S. last August before expanding to the UK a few months later and several more European countries and Canada last month.