5.5-inch iPhone 6 Mockup Compared to iPhone 5s in New Photos
Following the leak of a simple case for the rumored 5.5-inch iPhone 6, Nowhereelse.fr today pointed to [Google Translate] a pair of posts on Rocket News 24 sharing photos of a physical mockup of the larger iPhone 6 model alongside an iPhone 5s. While there have been numerous renderings, cases, and physical mockups of the rumored 4.7-inch iPhone 6 in recent weeks, this is one of the first comparison shots of the 5.5-inch version.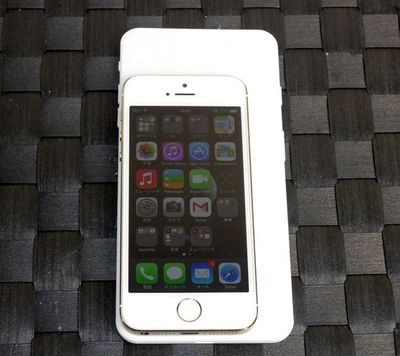 The resin-based mockup was printed on a MakerBot Replicator 2 3D Printer using design drawings published earlier this year by MacFan. The comparisons show just how much larger the 5.5-inch device is than the iPhone 5s, with the mockup measuring 157 mm in length, 77 mm in width and just 6.7 mm in thickness. It is longer and wider than the iPhone 5s (123.8 x 58.6 x 7.6 mm), but has a thinner profile that matches more closely to the iPod touch fifth generation (123.4 x 58.6 x 6.1 mm).


The mockup adopts the iPod touch-style curved edges, which are markedly different from the hard corners of the iPhone 5s, and elongated volume buttons. Unlike previous high-quality mockups of the 4.7-inch iPhone 6 model, this mockup is relatively crude, providing few details beyond the basic form factor.
Apple is rumored to be preparing a 4.7-inch version of the iPhone 6 for release in the fall, while the 5.5-inch version may debut several months later due to production issues that may have delayed its release.