Case for Larger 5.5-Inch iPhone 6 Model Surfaces with Dimensions
While there have been numerous renderings, cases, and physical mockups of the rumored 4.7-inch iPhone 6 in recent weeks, there has been considerably less attention paid to the even larger 5.5-inch model, which is said to be released several months after the 4.7-inch version.
New photos showing what appears to be simple cases for both the 5.5-inch and 4.7-inch iPhone 6 models, paired with physical mockups, have been shared by Nowhereelse.fr [Google Translate]. The images show the larger 5.5-inch "iPhone Air" along with the 4.7-inch version, providing a scale comparison and approximate dimensions for both handsets.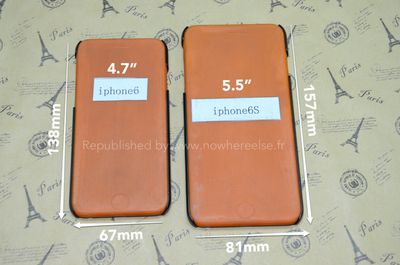 The larger case obtained by Nowhereelse.fr is identified as being for the "iPhone 6s" and reportedly measures 157 mm long, 81 mm wide and 7 mm thick. This model is slightly larger than the 4.7-inch model, which measures 138x67 mm and is 7.0 mm thick. The dimensions for both of these cases closely match design drawings published by MacFan earlier this year, which are the foundation for most recent renderings and mockups.
Both cases also show similar physical features, including a rear cutout for the camera and a cutout for the usual mute switch and volume buttons along the left side as well as a new cutout along the right side reportedly for a relocated power button.


These photos follow many recent images of cases and physical iPhone 6 mockups, including one crude mockup showing the larger 5.5-inch iPhone 6. High-quality physical mockups of 5.5-inch device have yet to be seen, but users with access to a 3D printer can print their own mockup using 3D files based on the MacFan schematics.
Both versions of the iPhone 6 are expected to include a thin profile similar to the iPod touch fifth generation, a faster A8 processor, a Touch ID fingerprint sensor, and an improved camera that may include either optical or electronic image stabilization. The 4.7-inch version may launch as soon as this fall, with the 5.5-inch version arriving several months later.