Nintendo Unveils New Web-Based Service for Smartphones
As a part of its latest financial results briefing (via Engadget), Nintendo has unveiled a new web-based service optimized for smartphones to coincide with the upcoming release of Mario Kart 8. The web app will allow all users to view gameplay videos and other information, while those with a Nintendo Network ID will be able to upload videos, establish their rankings, and see friend activity over time.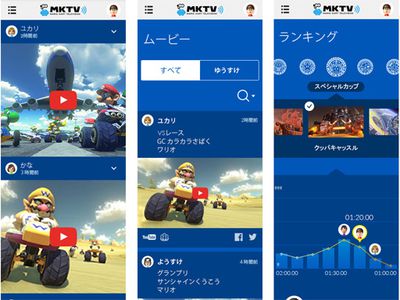 This is the layout for a smartphone. This web service will enable more people to easily watch Nintendo's official videos, view rankings, watch videos that their friends have shared and videos of tournaments in which they have participated.

This "Mario Kart TV" (temp.) web service is available even for players without NNIDs, but by logging into the service with an NNID, they will be able to easily find their rankings, videos that their friends have shared, videos of tournaments in which they have participated, and it will be convenient to access this service through smart devices even when they are not at home.
The reveal of the new service comes four months after Nintendo president Satoru Iwata acknowledged that the company would consider "a new business structure" that involves smart devices after a third consecutive annual loss. Shortly after Iwata's comments, Japanese business newspaper Nikkei reported that Nintendo's mobile push would focus on marketing demos and not full games, with those claims later denied by Nintendo.
Nintendo has faced heavy competition from mobile platforms in recent years, with App Annie and IDC finding that consumer spending on games for iOS and Android rose to 4x that of dedicated gaming handhelds.
Nintendo's investors have also called on the company to develop titles for iOS and other platforms, while others have suggested that Nintendo should "buy its way" into the smartphone market by either acquiring technology or developing their own. While this newest web service may not be a large initial showing, it may also indicate that Nintendo is testing the waters ahead of more full-fledged efforts in the future.