Microsoft's Office for iPad Apps Gain Printing Capabilities
Microsoft's Office for iPad apps, including Word, Excel, and PowerPoint received their first major update today, gaining the printing capabilities that were notably absent when the apps launched back in March. The lack of an ability to print documents directly from the apps was a major complaint in initial reviews of the mobile productivity suite.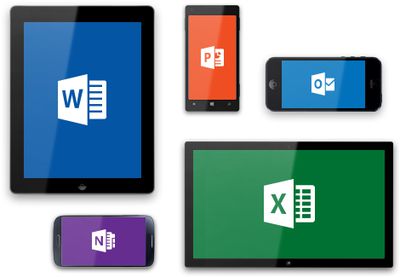 According to an official blog post, all three apps will gain the ability to print over-the-air to an AirPrint-compatible printer.

Your top request is here! You can now print Word documents, Excel spreadsheets, and PowerPoint presentations to an AirPrintTM printer. In Word for iPad, you can choose to print a document with or without markup. In Excel, print a selected range, a single worksheet or an entire spreadsheet. Of course, you can select the pages or slides you want to print.
Along with printing capabilities, the apps have gained a few other highly-requested features, including SmartGuides for PowerPoint and AutoFit for Excel. While SmartGuides help PowerPoint users align pictures, shapes, and textboxes on a slide page, AutoFit will let Excel users adjust the width and height of multiple rows and columns at once.
Each update also includes a number of bug fixes, along with a note from Microsoft outlining its commitment to continually improving its Office for iPad apps. "We're already working on the next update," reads the post.
All of the updates are currently available and can be downloaded from the App Store for free, but editing and creating documents requires an Office 365 subscription. Microsoft OneNote has also been updated with bug fixes.
- Microsoft Word for iPad [Direct Link]
- Microsoft Excel for iPad [Direct Link]
- Microsoft PowerPoint for iPad [Direct Link]
- Microsoft OneNote for iPad [Direct Link]