Apple Execs Eddy Cue and Craig Federighi to Speak at Code Conference in May
Apple executives Eddy Cue and Craig Federighi will speak at the first annual Code Conference hosted by Re/code, the site reported today. The duo will headline the second night of the event in late May.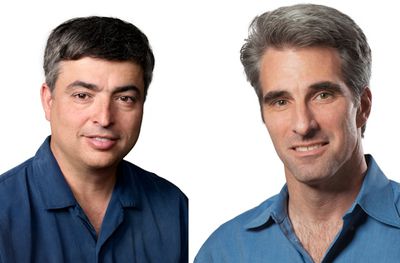 We are very excited to have both Cue and Federighi at the event to talk about a range of things about the company that remains at the center of the action, especially in the important mobile sector. From the shifting entertainment and communications landscape to the fast-moving wearables space to, well, everything digital, these two play a very important role.
Eddy Cue serves as Apple's senior vice president of Internet Software and Services handling the iTunes Store, App Store, iCloud, and more, while Federighi serves as the senior vice president of Software Engineering, overseeing both iOS and OS X.
Both Cue and Federighi report directly to Tim Cook and are responsible for overseeing many essential elements of Apple's ecosystem.
Walt Mossberg and Kara Swisher of Re/code have done multiple yearly conferences, formerly under All Things D. Past events have included interviews with former Apple CEO Steve Jobs and last year's event featured current Apple CEO Tim Cook, who spoke about wearables and television.
The 2014 Code Conference will also feature speakers like General Motors CEO Mary Barra and Microsoft CEO Satya Nadella. While the event is sold out, the site does have plans to post news and videos on Re/code throughout the conference.