As noted by Billboard, the Beats Music app [iTunes] for the iPhone climbed to the top of the iOS Music charts on Wednesday, amid grumblings that the streaming music service is struggling to attract customers.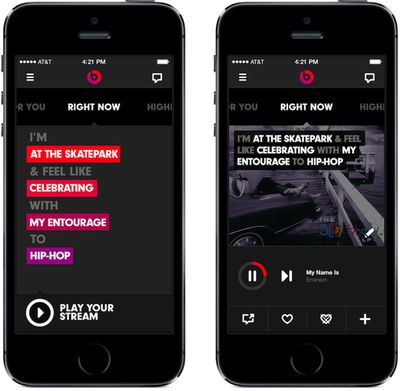 Founded by music producer Jimmy Iovine and Dr. Dre, Beats Music launched its streaming music service earlier this year, entering a crowded market that is dominated by Pandora, iHeartRadio, and Spotify. Beats has aggressively marketed its service, spending millions of dollars for a splashy Superbowl ad featuring Ellen Degeneres and recently partnering with AT&T Mobility to offer its service to AT&T's 110 million mobile customers.
Beats Music has not released subscriber numbers, but sources for Billboard claim early subscriber estimates are "disappointing," with numbers climbing only to the "low six figures." These subscribers are an important metric as they represent the number of customers who exit the free trial and opt to pay for the service. In comparison, market leader Pandora has more than 3.3 million paying subscribers and 75.3 million active listeners.


Beats Music recently updated its streaming music app, allowing users to subscribe to the service via their iTunes account. Beats will be sharing its in-app revenue with Apple according to the App Store's 70/30 split, but this loss in cash may be offset by an increase in subscriber numbers.
The ability to easily purchase a subscription within the iPhone app may have boosted interest in the service causing it to climb up the App Store charts. Not only is the Beats Music app number one in the free music category, it is also number 5 in the overall Top Free Apps chart and number 8 in the Top Grossing music category. This latter metric suggests more than a few customers are deciding to subscribe to the music streaming service using this new in-app option.
Besides the new in-app subscription, the updated Beats Music app also added support for Facebook friend search, an offline mode, artist promotional offers and more.