Beats has launched its much-rumored Beats Music streaming service and app, directly competing with other services like Pandora, Spotify, Rdio and Apple's iTunes Radio.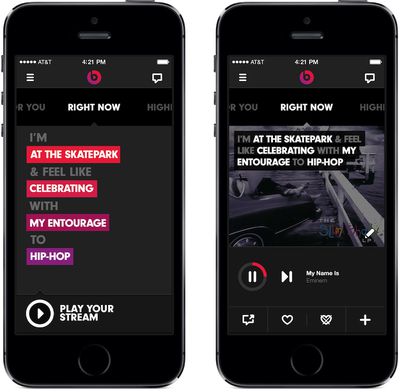 We wanted to build a music service that combined the freedom of an on-demand subscription service – unlimited, uninterrupted streaming and downloads of tens of millions of songs – but layer on top features that would give you that feeling only music that moves you can give. The right song at the right time will give you a chill. Make you pull someone close. Nod your head. Sing in the mirror. Roll down the car window and crank the volume to the right.
The service is heavily built on curation, with Beats hiring music experts from publications like Pitchfork and DJs from some of the most listened to radio stations around the country to curate stations, playlists and to make sure the music catalog of 20 million songs allows for "great listening choices".
Users can simply open the app and "hit play" to start streaming music, or they can use one of the curation-based features. "Right Now" allows users to input where they are, what they're doing, who they're with and what they want to listen to and the service creates and endless playlist to match that mood. "Highlights" allows users to stay up-to-date with the music world by following Beats Music's programmer picks.
Similarly to Spotify, users can also create and share playlists with all their friends. They can also download "hundreds of albums" for offline listening.
Back in March of 2013, Beats CEO Jimmy Iovine revealed that he had met with Apple executives, including CEO Tim Cook and SVP of Internet Services Eddy Cue about the music service. Specifically, the Apple executives expressed interest in the service's "business model and plans".
Beats Music is $9.99 a month for unlimited streaming, unlimited album downloads for offline streaming and no ads, although AT&T customers can get the service for their entire family for $14.99 a month.
Beats Music is a free download available on the App Store. [Direct Link]
Update: Due to high traffic, Beats Music has been experiencing some issues. As a result, the company has decided to stop allowing new signups until its traffic problems are resolved. Because of the blip, Beats Music is rewarding all users who register during this week with an additional 7 day trial period.