Screenwriter Aaron Sorkin has revealed more information about his script for the Steve Jobs movie while speaking at the Tribeca Film Festival on Monday night to Mashable, telling the site his movie isn't a traditional biopic or the story of Steve Jobs.

"It's not a biopic; it's not the story of Steve Jobs — it's something much different than that," Sorkin said. "He's a fascinating guy — part hero, part antihero."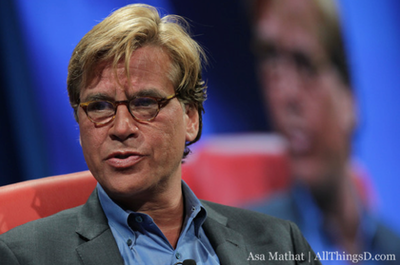 Sorkin declined to comment on today's report from The Hollywood Reporter saying that Slumdog Millionaire director Danny Boyle was in talks to direct the Steve Jobs movie with Leonardo DiCaprio potentially starring as the Apple co-founder. Instead, he said that he wanted the movie to speak for itself and that Jobs was a "fascinating guy" surrounded by "fascinating people" and had "very interesting relationships in his life".
Additionally, Sorkin revealed that the film, which he referred to as Steve Jobs, was one of the few times in his career he set out to write what he wanted to write and that it was an "incredibly satisfying" feeling.
The script, which Sorkin completed in January, uses material from Walter Isaacson's Steve Jobs biography and will focus on three 30-minute scenes ahead of three product launches. No potential release date has been announced.