Google Preparing 'Android TV' Set-Top Box with Native Apps, Simple Interface, Voice Search
Google is gearing up to release a new Android TV set-top media box that utilizes a simple card interface with native apps and games, voice search, and a proactive recommendation system, according to new documents obtained by The Verge.
The documents note that while Android powers the box's experience, the interface offers a series of "cards" representing different channel options, including movies, shows, apps, and games. Users will be able to scroll through the interface with a four-way directional pad that contains Enter, Home, and Back buttons, with the set-top box reportedly featuring optional game controllers.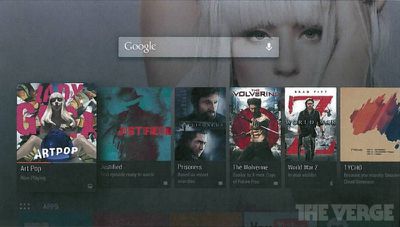 "Access to content should be simple and magical," reads one Google document, which adds that it should never take more than three clicks or gestures to go from the homescreen to enjoying a new piece of content. Even search appears to be secondary to intuitively understanding what you want and delivering it as soon as possible, though search will be still be one of Android TV's primary tools. In addition to universal search, pressing the Search button on the controller will let you search from within individual apps as well.
Moreover, Android TV is said to contain support for voice input, notifications, and search, with the set-top box also being able to recommend content based on a user's interests and resume content viewed elsewhere the moment Android TV is turned on. Google is reportedly asking select developers to create games and apps for its new set-top box with optimized interfaces for the TV, as apps for Vevo, Netflix, Hulu, Pandora are expected to ship with the device. The company will also work in its own apps including Play Movies, YouTube, and Hangouts.

"Android TV is Android, optimized for the living room consumption experience on a TV screen," writes the company, but the focus is on simplicity for now. Google is stripping away unneeded features like telephony, cameras, touchscreen support and near-field communication to keep developers focused, and handing them ready-made interfaces where they can hopefully just plug in shows, games, photos, music, and films.
Google is also expected to keep its popular Chromecast HDMI streaming accessory with the release of Google TV, with The Verge noting that developers will be required to build two different interfaces for the two different devices.
It is not known specifically when the device will launch, but it is clear that Google's Android TV will enter a growing market of set-top boxes -- just this past week, Amazon launched its own Fire TV media streaming box with voice search, game support, and more, to compete with other devices like the Apple TV and Roku.
The move comes as Apple is said to be preparing a new version of the Apple TV that will include game support and might possibly integrate with Comcast's network to enable a streaming TV service for users. Apple is expected to unveil its new Apple TV sometime in the near future, with some rumors suggesting a launch as early as April.