Apple in Talks with Comcast to Provide Streaming TV Service on Future Apple TV
Apple is in talks with Comcast about using the cable provider's network for a streaming TV service to be integrated in a future version of the Apple TV, reports The Wall Street Journal. According to the report, Apple's set top-box would be able to access Comcast's wide variety of channels for a monthly subscription, with the Apple TV receiving "special treatment" from Comcast when connected to its cable network to ensure that it would bypass congestion on the Internet for optimal streaming.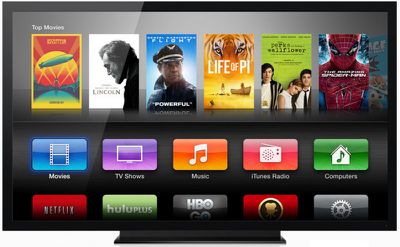 Apple's intention is to allow users to stream live and on-demand TV programming and digital-video recordings stored in the "cloud," effectively taking the place of a traditional cable set-top box.

...Under the plan Apple proposed to Comcast, Apple's video streams would be treated as a "managed service" traveling in Internet protocol format—similar to cable video-on-demand or phone service. Those services travel on a special portion of the cable pipe that is separate from the more congested portion reserved for public Internet access.

People familiar with the matter said that while Apple would like a separate "flow" for its video traffic, it isn't asking for its traffic to be prioritized over other Internet-based services.
The report also adds that Apple and Comcast are still in early discussions, and that Apple's ultimate goal would be to ensure that Apple TV users receive the same quality that Comcast's regular cable boxes receive. Apple has proposed to Comcast that users would sign onto the new device using an existing or new Apple ID, and asked for a cut of the monthly subscriptions paid for by customers.
Apple has traditionally positioned the Apple TV as a "hobby product" with occasional refreshes adding new features. In January 2014 however, Apple revamped its online storefront adding a new category for the Apple TV alongside the categories for the Mac, iPhone, and iPod product lines suggesting that the product may be moving out of the hobby status assigned to it.
CEO Tim Cook also revealed during the company's 2014 shareholders meeting that the Apple TV generated $1 billion last year, noting it was "a little more difficult to call [the Apple TV] a hobby these days" given its growth.
Apple is expected to launch a new Apple TV sometime in the near future, with some rumors pointing to a refined set-top box that may include gaming and cable box-like capabilities. The move would also come as Comcast announced that it would be merging with Time Warner Cable in February, which Apple was reported to be in talks with for quite some time to provide TV shows and other media.
Update: The Information has shared more details on Apple's future set-top box, stating that the device will feature a "dramatically overhauled interface" which will blend TV listings with apps and video from the web. The report also notes that the next-generation Apple TV will place a "big emphasis" on gaming, with Apple asking developers of iOS games to make their titles compatible with its new product so that users can play games on their TV screen using iOS devices as controllers.