Amazon Launches 'Fire TV' Media Streaming Box with Voice Search, Game Support, and More
In line with earlier rumors, Amazon today announced the Fire TV, a new media streaming device that will compete with the Apple TV, Google Chromecast and the new Roku Streaming Stick.


The Fire TV is set-top box with a bluetooth remote that supports voice search. Internal hardware includes a quad-core processor with a dedicated graphics processor and 2GB of RAM. It supports 1080p via HDMI and features dual-band, dual-antenna Wi-Fi with MIMO for fast video downloads. Amazon claims it Fire TV hardware is three times as powerful as its competitors.
The Fire TV streams Amazon Prime Instant Video titles as well as content from third-party providers such as Netflix and Hulu. Owners can browse through popular movies and TV shows on Amazon Instant Video, with personalized recommendations and a watchlist making it easy to find and save content. A new ASAP (Advanced Streaming and Prediction) feature learns what movies and shows you enjoy and gets them ready for you to watch. The more you use the Fire TV, the better it gets at predicting your media choices.
Setting it apart from its competition, Amazon also bundles games into the Fire TV device with support for a $39 wireless Fire game controller. Well-known gaming studios such as Disney, Gameloft, EA, Sega, Ubisoft and Double Fine are partnering with Amazon to bring their titles to the Fire TV device. Amazon also is launching its own gaming studio, with the tower defense game Sev Zero debuting as the studio's first official game.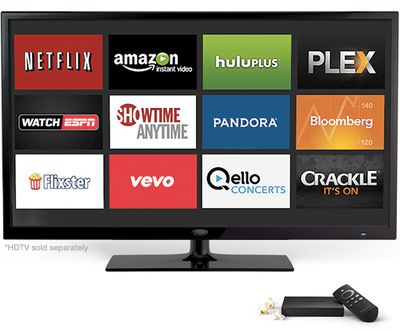 Extras packaged into the Fire TV include photos with slide shows and X-Ray that provides IMDB details for movies and TV shows on a second screen device like the Kindle Fire HDX. Music services such as Pandora, iHeartRadio, TuneIn, and Amazon's own Music service will debut on the Fire TV starting next month with support for X-Ray, which will display song lyrics.
Not just for adults, Amazon added its FreeTime service, which offers parental controls and personalized profiles for children. A $2.99 monthly option for a FreeTime Unlimited subscription adds unlimited access to programming from Nickelodeon, Sesame Street, PBS Kids and more.
The Fire TV will ship today from Amazon with a $99 price tag.