Apple to Open First Turkish Retail Store in Istanbul on April 5
Apple is ready to open its first retail store next week in Turkey, with a grand opening gala that may feature Apple CEO Tim Cook and Turkish President Abdullah Gül. Located in Istanbul's Zorlu Center Shopping Center, the retail store will open at 10:00 AM on Saturday, April 5, 2014, reports Elma Dergisi.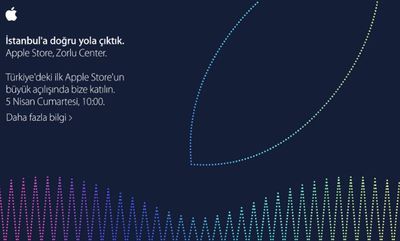 The Turkish store occupies approximately 20,000 square feet in the heart of Istanbul's popular, multi-use shopping center. The Zorlu Center store is thought to feature a cubic glass ceiling, glass sides and in-store services such as a dedicated "Family Room" floor and dual Genius Bars, reports 9to5Mac. The structure is currently hidden behind barricades until its official debut.


This Zorlu Center store is the first of several retail stores planned for Turkey as Apple makes inroads into this new market. Apple also met with Turkish government officials to equip Turkish school children with 10.6 million tablets in a new education initiative to bring cutting-edge technology into schools.
Though negotiations appeared to be favorable for Apple, this bid eventually was awarded to Turkish company Telpa, which is providing tablets from General Mobile, a Turkish-owned company operating out of the United States.