OS X Mavericks Adoption Pushing Toward 50%
Just five months after its release, OS X Mavericks is seeing adoption rates in the range of 40 percent to almost 50 percent depending on the tracking source. The significant growth in Mavericks users demonstrates the benefits of Apple's move to drop the price of its latest OS X update to zero in an effort to encourage users to upgrade.
Analytics firm Chitika is out with a new report today showing Mavericks usage at 40 percent of page impressions in the United States and Canada over the week of March 17-23. Apple's three previous operating system versions split almost all of the remaining 60 percent of the Mac user base nearly evenly.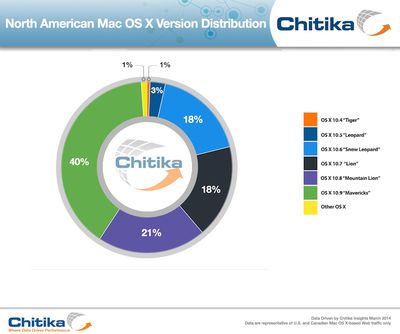 Almost exactly five months following Mavericks' release, the operating system's users are generating 40% of U.S and Canadian Mac OS X-based Web traffic, a figure that dramatically outpaces Mavericks' predecessor, OS X Mountain Lion. At 40%, the share of OS X Web traffic generated by Mavericks users is approximately six percentage points higher than what OS X Mountain Lion achieved nearly 14 months following its public debut, and 13 percentage points higher [than] what was recorded at the seven-month mark.
The report notes that while Mavericks is seeing strong upgrade rates relatively to previous versions of OS X, Mac adoption rates are much slower than seen for iOS, where 85 percent of devices are now running iOS 7. This disparity is likely due to a number of factors, including longer lifespans for Macs that may leave a higher percentage of machines ineligible for the latest OS version, as well as a more varied user base than may not be as tech savvy as mobile users and thus less likely to upgrade.
Chitika is not the only analytics company tracking OS X usage, as GoSquared continues to maintain its tracker offering a real-time look at the distribution of OS X versions appearing on its network of sites. GoSquared is seeing an even higher rate of adoption for Mavericks of around 48 percent, with a similar even split of the three previous versions all around 15-16 percent.
Net Applications is yet another analytics firm with a significant user base to measure data from, and that firm saw Mavericks with a 45 percent share of the OS X base in its February data.