Apple TV Business Generated $1 Billion in 2013, Cook Says 'Difficult to Call It a Hobby'
During Apple's annual stockholders meeting in Cupertino today, Apple CEO Tim Cook revealed that Apple sold more than $1 billion worth of its Apple TV set-top box in 2013, putting sales at close to 10 million units for the year.
This is a roughly double the 5 million it sold in fiscal 2012, which was double its Apple TV sales in 2011. Cook has traditionally called the Apple TV a "hobby", but said today that "it's a little more difficult to call it a hobby these days". Horace Dediu created a chart showing the impressive growth of Apple TV sales over the past several years, making it the fastest growing device in Apple's hardware lineup.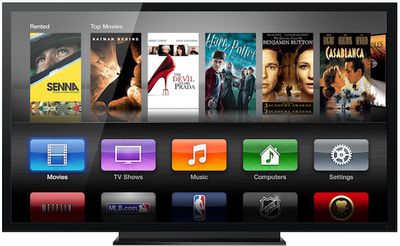 It has been repeatedly rumored that Apple is working on an improved set-top box and also a full-fledged television set. A new set-top box is expected to be introduced in the next couple of months, though it's unclear when the device itself would go on sale. A recent report said Apple would be introducing an SDK for Apple TV application development with an accompanying App Store launching to the public later in 2014.
Apple also launched a sale on the Apple TV at the company's online and retail outlets in the U.S., giving out a $25 iTunes Gift Card with purchase of the $99 device -- an unusual move for the company which only rarely offers sales on its devices.
Update 11:21AM: Re/code's Peter Kafka says the $1 billion number includes content sales on the Apple TV box, including movie rentals and TV show purchases.