Apple's iPod Nano Pedometer Patent Application Sparks iWatch Speculation
Apple has been rumored for some time to be working on an "iWatch" featuring biometric sensors and integration with other iOS devices, and a recently published patent application (via AppleInsider) addressing pedometer functions is being presented as evidence that the company is indeed working on a wrist-worn fitness device.
In some implementations, optimizations for detecting steps when a pedometer is worn at a user's wrist are described. In some implementations, a threshold crossing step detection method can be enhanced for wrist locations by counting the number of positive peaks between comparison threshold crossings, adjusting a minimum peak-to-peak threshold for qualifying threshold crossings, and inferring a second step based on the amount of time between threshold crossings. In some implementations, the pedometer can automatically determine that the pedometer is being worn on a user's wrist.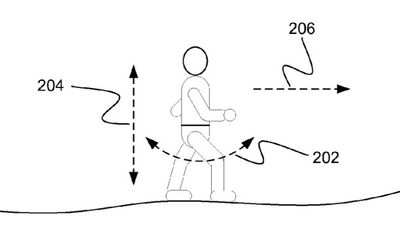 The problem with this interpretation is that Apple already offers a product with a built-in pedometer and which is frequently worn on the wrist or arm: the iPod nano with Nike+ integration. Also supporting the idea that this research was pursued with the iPod in mind is the fact that the sole inventor listed on the patent, Yash Modi, is open about his work on iPod pedometer functionality during his time at the company. Modi left Apple in March 2012 to join Nest.


While such pedometer functionality is likely to make its way into the iWatch given rumors of emphasis on biometric sensors for the device, Apple's patent application is by no means a smoking gun given that the technology has been in use for a number of years already. The built-in pedometer debuted in the fifth-generation iPod nano introduced in September 2009.
Still, Apple's "Wrist Pedometer Step Detection" patent offers an interesting glimpse at how Apple has worked to optimize algorithms for detecting steps when a device is worn on the wrist. Unlike standard pedometers that are worn on the waist and provide consistent step data, the wrist adds complexity to step measurement because its motion is not always tied to actual forward movement. Algorithms analyzing wrist movement data must isolate actual steps from the background movement when users are typing, driving or performing other common tasks.
Apple's filtering method of step analysis accurately measures this movement and has the added benefit of being able to analyze movement from a device that is worn anywhere on the body. The software powering the device also can determine when a device is worn on the wrist or another body part and will adjust its analysis based on the device's location.
Apple is expected to unveil its iWatch wearable later this year with health and productivity features that connect the device to a user's iPhone or iPad via Siri and iOS 8's Healthbook app.