Six Apple executives received more than 30,000 shares of stock in the form of restricted stock units or RSUs according to a series of filings with the SEC. RSUs are typically issued to employees to encourage them to stay with the company. They are awarded in a similar way to stock options, but convert directly into shares of stock upon vesting.
At current prices, the awards are worth as much as $12.1 million per executive.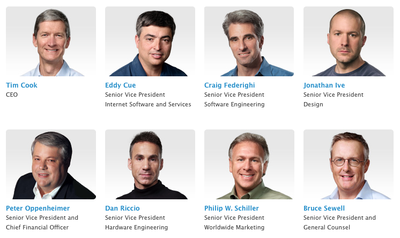 In this case, the shares appear to have been awarded as part of the executives' 2014 compensation package. Apple Senior Vice Presidents Eddy Cue, Craig Federighi, Dan Riccio, Phil Schiller, Bruce Sewell, and Jeffrey Williams all received equal bonus awards, with shares granted thusly:
- 22,738 RSUs with one-third of the units scheduled to vest into full shares of Apple stock on April 1 of 2016, 2017 and 2018.
- 6,626 RSUs scheduled to vest on October 1, 2015, with that number subject to adjustment based on Apple's total shareholder return.
- 6,416 RSUs scheduled to vest on October 1, 2016 with the same adjustments as the 2015 award.
In June of 2013, Apple's board adjusted the company's executive compensation package to consider shareholder return, as compared to companies in the S&P 500, as part of senior management's bonus scheme. In this case, Apple executives can see their award increased by as much as 100%, or decreased to 0, depending on the company's performance.
Apple executives typically receive bonus awards every other year, with bonuses paid out over several years as part of the company's overall executive retention package. Executives who leave the company see their unvested RSUs expire. Tim Cook did not receive any awards as his compensation package is determined independently of his senior staff.