Oscar, a new Kickstarter project currently seeking funding, is an Arduino-compatible adapter that's able to connect a high-resolution screen to a computer. The adapter comes attached to the same 9.7-inch display used in Apple's Retina iPads, and uses DisplayPort or Thunderbolt to connect to a computer.
When connected to a Mac, the Oscar adapter allows the high-resolution 2048 x 1536 panel to be used as a second screen.
OSCAR is an adapter that allows you to connect a super high resolution 9.7" screen, often found in tablets, to your computer. It comes pre-connected to the LCD panel ready to be attached and is compatible will all operating systems using a Thunderbolt or DisplayPort connection. The board is Arduino compatible which makes modifying the behaviour easy and all the software and hardware is open source.
The complete Oscar kit includes an LCD screen that comes with an acrylic case and a stand, allowing it to be used for a range of second-screen purposes. The adapter included with the display powers the LED backlight and controls the power supply. Because it's Arduino compatible, the adapter can be used to control variables like backlight brightness through USB.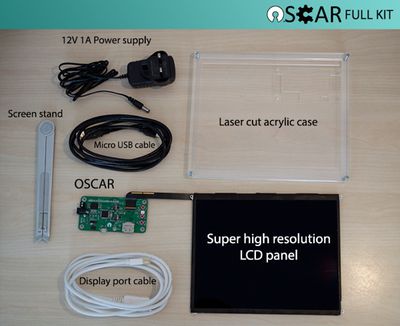 The full Oscar kit, with display, laser cut acrylic case, power supply, stand, and DisplayPort/USB cables can be obtained through a £150 pledge, equivalent to approximately $250. The screen alone can be purchased for £110, or $183, and the panels are expected to begin shipping in July of 2014.
Update 1:09 PM PST: As MacRumors forum user rootyb has pointed out, a similar product from Adafruit is already available for purchase for $250.