Apple is preparing to open a new retail store in Dayton, Ohio by the end of the year, according to the Dayton Business Journal and ifoAppleStore. The company is expected to occupy a space formerly held by women's clothing retailer Lane Bryant at The Greene outdoor shopping center, as a black construction barricade was recently spotted at the location. Apple also posted 12 job listings for the area ranging from Store Leader to Specialist on Tuesday.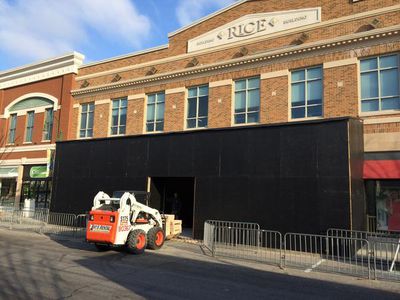 A site tracking future Apple Store locations reports it has confirmed by unofficial sources that The Greene is the next location and will open later this year, and sources have told the Dayton Business Journal that The Greene is expected to get the Apple Store.

A large space, formerly occupied by Lane Bryant at 4422 Cedar Park Drive, is currently under construction behind large black barriers. Greene County records list building permits for tenant work at the site, but don't name the tenant.

Crews from Miller-Valentine Group were seen inside the construction site Wednesday morning, and said they didn't know what retailer was going to use the space.
An Apple Store in Dayton would be the company's seventh retail location in the state of Ohio, which also includes stores in Akron, Cincinnati, Columbus, Westlake, and Woodmere.
As part of its annual 10-K filing [PDF] with the U.S. Securities and Exchange Commission, Apple revealed that it plans to open 30 new retail stores in 2014, with approximately two-thirds of those to be located outside of the United States. A report last week stated the company is also planning to open a new retail store in Lansing, Michigan by the end of the year.