Mad Catz Debuts 'C.T.R.L.i' Wireless iOS 7 Game Controller
Gaming peripheral company Mad Catz has debuted its C.T.R.L.i iOS 7 gaming controller at Mobile World Congress 2014, reports Engadget. The offering from Mad Catz brings yet another choice to the iOS gaming controller market that saw the release of the SteelSeries Stratus last month and the Logitech PowerShell and MOGA Ace Power last year.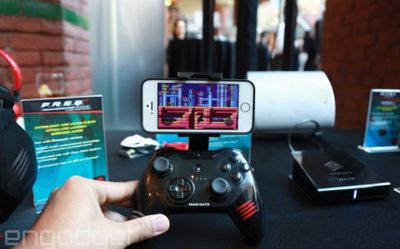 Similar to the Stratus, the C.T.R.L.i can connect to any iOS 7 device through Bluetooth instead of using a Lightning port, and includes a spring-loaded mount that can be used with the iPhone 5, iPhone 5s, and iPhone 5c. The controller itself is based on Mad Catz's popular MLG Pro Circuit Controller for the Xbox 360, and features console-style controls such as a directional pad, two analog sticks, four face buttons, shoulder bumpers, and left and right triggers. The C.T.R.L.i's Bluetooth capabilities also allows connectivity for up to four controllers.


At the current point in time, multiple games offer iOS 7 controller support, including titles like Rayman Fiesta Run, Dead Trigger 2, and Asphalt 8: Airborne. Additional developers have also pledged to build controller support into their apps now that hardware is available to consumers, as more iOS games appear to be receiving updates that enable game controller support.
The Mad Catz C.T.R.L.i iOS 7 gaming controller will be available for $80 in April, and will come in colors of black, white, red, blue, and orange.