SteelSeries 'Stratus' Wireless Gaming Controller Now Available for Pre-Order
Following the release of the Logitech Powershell and MOGA Ace Power, gaming peripheral company SteelSeries today announced its Stratus iOS 7 gaming controller. Unlike the other two controllers, the Stratus is a completely wireless accessory that connects through Bluetooth instead of using the Lightning port on an iOS device.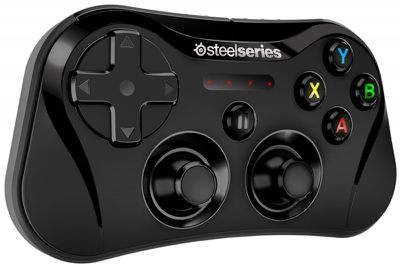 Featuring console-style controls such as a directional pad, two analog sticks and four pressure sensitive face buttons, the Stratus' Bluetooth capabilities allows connectivity for up to four controllers. The device also includes a protective cover that doubles as an extended grip.
Our sister site TouchArcade had the opportunity to spend some extended time with the SteelSeries Stratus, and has provided a detailed review outlining the strengths and weaknesses of the controller. While the device was given high marks for being useable with any iOS 7 device and an impressive battery life of over ten hours, criticisms centered around the high price tag and the comfort issues that the controller's small design creates. Despite those criticisms, TouchArcade stated that the SteelSeries Stratus is "without a doubt the best controller out there."
Another positive aspect of the SteelSeries Stratus was its ability to work well with Apple's Lighting Digital AV Adapter while gaming:
Also, obviously, this begins to open the door to the strange new world that is treating your iPhone like a portable game console hooked up to your TV. You could technically do this with the Moga Ace Power and Logitech Powershell, but it required beaming your video output via AirPlay, which arguably is the least ideal of all possible solutions given the significant amounts of nearly unplayable lag AirPlay introduces. Wiring your iPhone or iPad direct to your TV via the Lightning Digital AV Adapter significantly mitigates this.
Currently, games such as
Dead Trigger 2
,
Asphalt 8: Airborne
, and
Bastion
offer controller support, with additional developers pledging to build controller support into their apps now that the hardware is available to consumers.
The SteelSeries Stratus sells for $99.99 and is available now for pre-orders.