Steve Jobs to Be Honored With Commemorative Postage Stamp in 2015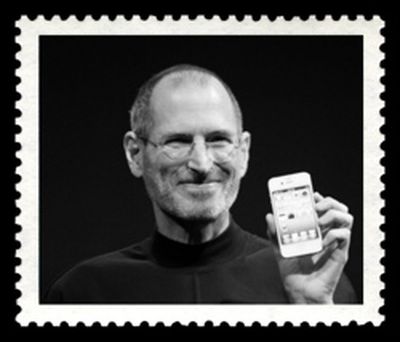 The United States Postal Service today approved a commemorative Steve Jobs stamp that will be printed as part of a collectible series next year, according to The Washington Post (via Engadget).
The former Apple CEO's stamp is still in the design stages and will be released at some point in 2015.
Jobs, who passed away in 2011 after a battle with pancreatic cancer, has also been posthumously honored for his visionary achievements with a special Grammy Merit Award and a Disney Legends Award. He was also inducted into the Bay Area Business Hall of Fame, has had a building at Pixar named after him, and was featured in an exhibit at the U.S. Patent Office Museum.
The Washington Post has also revealed several other future postage-stamp subjects approved for coming years, including Johnny Carson, John Lennon, and Michael Jackson.
(Image courtesy of Engadget)