Apple Confirms Suppliers Do Not Use Unethically Sourced Tantalum
Apple today published its 2014 Supplier Responsibility Report, releasing the results of its supplier audit program for 2013 and confirming that its partners only use ethically sourced tantalum, which is a primary metal used in electronic components that can be also be mined from war-torn regions in Africa.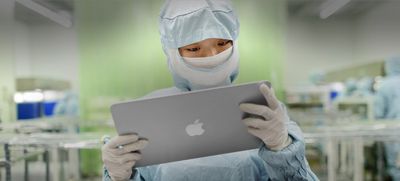 In January 2014, we confirmed that all active, identified tantalum smelters in Apple's supply chain were validated as conflict-free by third-party auditors, and we will continue to require all suppliers to use only verified tantalum sources. We know supply chains fluctuate, and we'll maintain ongoing monitoring of our suppliers' smelters.
Apple's senior vice president of operations Jeff Williams, also spoke to The Wall Street Journal on the matter:
In the company's 2014 Supplier Responsibility report published on Wednesday, Apple identified that its suppliers use 20 global smelters or refiners whose tantalum has been verified by third-party auditors as what the industry calls "conflict-free." Jeff Williams, Apple's senior vice president of operations, said the company has had success in pressuring tantalum smelters to agree to a third-party audit because Apple and other consumer electronics firms are the biggest users of the metal.
The gathering of tantalum, along with other minerals such as gold and tungsten, has become a controversial subject in the tech industry due to their sourcing at mines blamed for funding conflict in the Democratic Republic of the Congo (DRC). Apple added in its report that it will continue to support conflict-free supply lines and economic development in the region instead of abandoning the questionable minerals.
Apple's report also noted a number of other achievements for 2013, including driving suppliers to achieve a 95% compliance rate with the company's standard maximum 60-hour workweek, requiring suppliers to reimburse $3.9 million in excess foreign contract worker fees, and tracking the weekly work hours for over 1 million supply chain workers.
In its Supplier Responsibility Report for 2012 published last year, Apple revealed that it had dropped one of its suppliers in China after finding evidence of 74 underage workers at one facility.