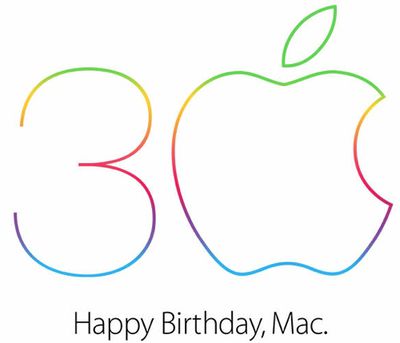 In celebration of the Mac's 30th anniversary, Apple today added a new "Happy Birthday, Mac" section to the App Store. The section, which features apps and games from both Apple and third-party developers, is intended to "capture the spirit" of what makes the Mac extraordinary.
When the Macintosh debuted on January 24, 1984, it fundamentally changed what a computer was – and what it could do. Software developers had an incredible new playground for their imaginations, allowing them to create groundbreaking apps and games unlike any seen before. And that's just as true of the Mac today as it was then. Celebrate the Mac's 30th anniversary with our specially chosen assortment of apps and games that capture the spirit of what makes this computer so extraordinary.
The new Mac App Store page is divided into three separate sections: Apps Made by Apple, Unforgettable Apps, and Amazing Games. In the first section, Apple features many of its own Mac apps, including OS X Mavericks, Logic Pro X, Final Cut Pro, and its iWork and iLife suite of apps.
Unforgettable apps includes popular Mac App Store offerings like Evernote, Pixelmator, and Fantastical. There are apps from a wide range of categories like Productivity, Utilities, Graphics & Design, Photography, Reference, and more.
Apple's Amazing Games picks include some of the best selling titles in the Mac App Store, like BioShock Infinite and the recently released Tomb Raider. While the new Mac section does not offer any particular deals, it is a solid collection of high-quality apps for the Mac.
Along with the apps, Apple also includes a link to its homepage, which is currently featuring a tribute to the Mac with a visual timeline and a "Mac 30" video that looks at the Mac's past and present.
Today marks the 30th anniversary of the day Steve Jobs first introduced the Mac at the Flint Center in Cupertino, California. Along with a new Mac App Store section and a tribute on its website, Apple is celebrating the milestone with a number of interviews. Several Apple executives discussed the Mac with Macworld yesterday and Tim Cook did an interview with ABC, which will air tonight.