Apple Updates iWork for iCloud Apps With Flat iOS 7 Design, New Features
Apple today updated its iWork for iCloud web apps (via 9to5Mac), introducing an iOS 7-style "flat" redesign that includes a revamped look for the document library and template selection screen in Pages, Keynote, and Numbers. In addition to a new look, all three apps have also gained several new features, including the ability to add a password and share password protected documents with other users.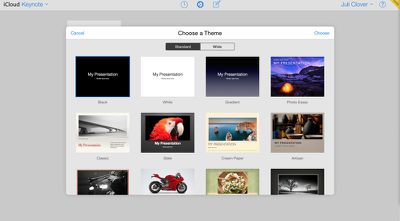 Continuing its efforts to add collaborative features to iWork for iCloud, Apple has also added new options to view files shared by other users within each app.
Each app has also received upgrades to bring the software more in line with Apple's iWork Mac apps. Pages now supports floating tables, page numbers, page counts, and footnotes, along with keyboard shortcuts for resizing, rotating, and repositioning objects. Keynote offers the same keyboard shortcuts and support for floating tables, and all three apps have gained rich formatting of text in table cells and bug fixes and stability improvements.
Apple likely has plans to introduce additional updates to iWork for iCloud in the near future, bringing the iOS 7-style design to all elements of the apps. iWork for iCloud continues to lack some notable collaborative features, including the ability to track changes and comment on content.
The iWork for iCloud software is available to all users for free and it can be accessed through Apple's iCloud.com website.