Apple's iWork for iCloud Apps Gain New Collaboration Features
When Apple launched its new iWork updates at its October iPad-centric event, it also officially debuted iWork for iCloud, which is a browser-based version of its Pages, Numbers, and Keynote productivity software. Files edited in iWork for iCloud are designed to sync with the Mac and iOS versions of Apple's iWork software.
During the event, Apple showed off some impressive real-time collaboration features within the software, allowing multiple users to work on a document simultaneously and share changes easily.
As noted by 9to5Mac, iWork for iCloud today gained some new features to enhance its collaboration tools, including a list that displays all users currently editing a project, plus the ability to toggle on "cursors and selections" for each person to see changes in real time.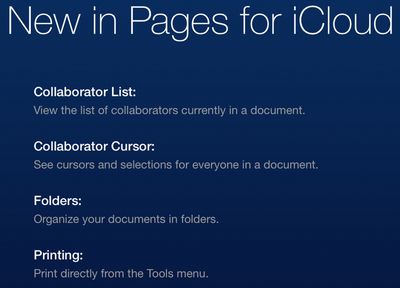 The apps have also received new folders to make file organization simpler, printing can be done directly from the Tools menu, and it is now possible to skip slides within Keynote during playback.
The iWork for iCloud software is available to all users for free, and it can be accessed through Apple's iCloud.com website. Collaboration through the software is simple and can be initiated through sending a simple link to another user.