Apple Falls Behind Microsoft, Samsung, and Sony in New Consumer Experience Survey
Apple slipped behind Samsung, Sony and Microsoft in a 2014 customer experience survey from Forrester Research (via The Wall Street Journal). This is the third annual survey, and the first time Apple has fallen behind these rival companies.
The survey measures customer experience, which involves difficult-to-define criteria based on how a customer feels about his or her interaction with a company. Forrester queried 7,500 consumers about their retail and customer support experiences and used the responses to assign each company a customer-experience index score.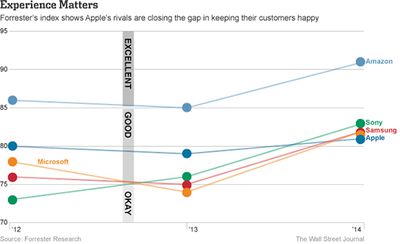 Amazon scored highest among the 17 consumer-electronics manufacturers operating in North America. It was the only manufacturer to garner an "excellent" rating of 91 for Kindle customers.

Sony came in second with a rating of 83, while Microsoft and Samsung followed one point behind at 82. Apple scored an 81. All three brands rated below Apple in the 2013 survey.

Though it slipped behind the competition, Apple still improved its score in the 2014 survey and earned a "good" score according to the survey's criteria.
Apple has struggled somewhat with the continually increasing volume of customers visiting its retail stores for sales and support, particularly under the leadership of former retail chief John Browett. Browett was ousted as part of a management restructuring after spending just six months on the job, during which Apple's retail unit saw staff cutbacks and an emphasis on profits erode the customer experience and employee satisfaction. After nearly a year and a half without a retail chief, Apple will see Burberry CEO Angela Ahrendts take the helm in the coming months to oversee both retail and online store operations.