Analysts Estimate Apple Sold Record 55.3 Million iPhones in 2013 Holiday Quarter
Apple will announce its quarterly earnings for fiscal Q1 2014 next week on January 27, 2014, and in advance of the earnings report both professional and amateur analysts are releasing their iPhone sales estimates for the holiday quarter. Apple had two new iPhones, the iPhone 5s and the iPhone 5c, in its product lineup during the quarter, and supply of the phones was fairly strong after some significant early shortages of the iPhone 5s.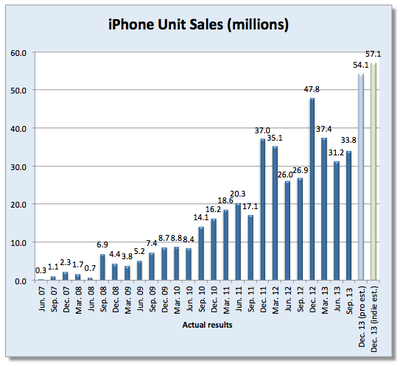 As reported by Philip Elmer-Dewitt of Fortune, the iPhone sales consensus among 27 professionals and 17 amateurs is a record 55.3 million units, up 16% from fiscal Q1 2013 when Apple set its current record of 47.8 million units. The average sales estimate among amateurs was 57.1 million units, while professionals were slightly lower with 54.1 million.
Estimates for the quarter are relatively narrow, with only 9.7 million units separating the highest individual estimate of 59.73 million from Faizal Kara of the The Braeburn Group from the lowest estimate of 50 million by Ilari Scheinin, also of The Braeburn Group. This differs from last year when the gap between the highest and lowest estimates was 20 million.
Results for the iPad also are expected to be strong, as Apple introduced two new iPads early in the quarter and dropped the price on the original iPad mini. Early indicators from Black Friday and Christmas Day suggest sales of the iPad Air and iPad mini were robust. Sales of the Retina iPad mini likely trailed the other iPad models as supply was constrained for the first few weeks after the device's launch. Apple does not, however, break down sales by model in its official announcement, so there will not be any definitive information about which models were most popular among consumers.