Apple Opens the Doors at its MacArthur Chambers Store in Brisbane, Australia
Apple's long-awaited store in Brisbane, Australia finally opened its doors to customers today. The flagship store was announced in 2011, but problems with contractors and the historical nature of the site delayed completion.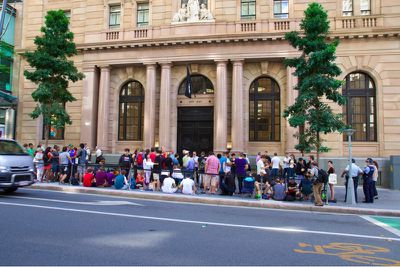 Customers started waiting in line almost 15 hours before the store was schedule to open its doors at 10 AM local time, with many hoping to score one of the limited edition Brisbane store T-shirts that were handed out. The dedicated fans were allowed in by exuberant store employees who greeted them with high-fives and cheers. Store leader Jonny Walker told PerthNow that he is proud of what Apple has done with the historic site.
"We are so proud of this store at Apple, it's got a stunning space now and we're really extremely proud to call it our home. When we took over the store a lot of the original historic elements were missing or in disrepair. What we've done is we've painstakingly restored it to its original glory."


The store is located within the impressive MacArthur Chambers building, which was General Douglas MacArthur's South West Pacific headquarters for the Allies during World War II. The new retail space occupies the entire bottom floor of the building. It includes 200 display units and is staffed by over 100 employees, says a report by Brisbane Times, which toured the location before it opened.
(Thanks, David!)