Adobe Lightroom for iPad Likely Coming Soon With Cloud Syncing and $99 Subscription Fee
Adobe's professional editing software Lightroom may soon make its way to the iPad, according to a product listing on Adobe's website that appeared briefly before being pulled. The mobile software was listed with a $99 cloud subscription, to be renewed on a yearly basis.
Originally discovered by 9to5Mac, Adobe's tagline for Lightroom for mobile is "Take Lightroom anywhere," and according to an Adobe support employee, the software has been designed for the iPad and includes many of the same features found in the desktop version of Lightroom.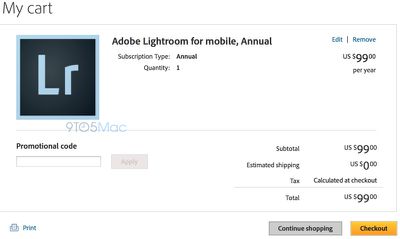 Like Apple's own Aperture software, Lightroom is designed for post production work, allowing its users to edit and manage high volumes of digital images.
Lightroom for mobile devices has been in the works for several months now, and back in May of 2013, Adobe demonstrated a concept for a Lightroom-style photo editing app for the iPad.
The app was cloud-based, and while it was designed to serve as a companion app to the full Lightroom software, it did offer features for on-the-go photo editing. In the demo, the app was able to edit raw photos imported from a camera, implementing changes to exposure, clarity, shadows, highlights, and white balance.
Adobe's May 2013 demo of Lightroom on an iPad
Changes made within the app synced with the desktop version of Lightroom, allowing the same photos to be edited on desktop computers, laptops, and on the iPad. Based on the reoccurring subscription fees for Lightroom mobile listed above, it is likely that the finished product works in much the same way, storing photos and edits in the cloud.
In May of 2013, Adobe abandoned its standard Creative Suite of apps, electing instead to offer cloud-based versions of all its apps. Lightroom 5 was later released in June of 2013 and offered both standalone and as a part of the Creative Cloud service.
It is likely that the upcoming Lightroom for iPad will be able to sync with both versions of the software and it is possible that it will be included for free to Creative Cloud subscribers that pay for Adobe's full suite of software.
Though it is unknown when Lightroom for iPad might launch, its brief appearance on the Adobe website suggests that a release is imminent.