Adobe Releases Photoshop Lightroom 5 With New Healing Brush, Radial Gradient, and Straightening Tools
Following the release of a public beta nearly two months ago, Adobe today announced immediate availability of the official release of Photoshop Lightroom 5, the company's professional photo management and manipulation software.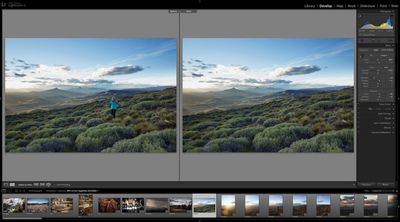 Lightroom 5 Advanced Healing Brush (Click for larger)
Adobe highlights six major new and improved features found in Lightroom 5, as well as a number of other smaller features designed to make the software more powerful and efficient than ever.
- Advanced Healing Brush: Remove distracting elements with a single brush stroke. Adjust the size of the brush and move it in precise paths. Unwanted objects and flaws—even those with irregular shapes like threads—just disappear.

- Upright tool: Straighten tilted images with a single click. The new Upright tool analyzes images and detects skewed horizontal and vertical lines, even straightening shots where the horizon is hidden.

- Radial Gradient tool: Emphasize important parts of your image with more flexibility and control. The Radial Gradient tool lets you create off-center vignette effects, or multiple vignetted areas within a single image.

- Smart Previews: Easily work with images without bringing your entire catalog of original images with you. Just generate smaller stand-in files called Smart Previews. Make adjustments or metadata additions to the Smart Previews and apply your changes to the full-size originals later.

- Improved photo book creation: Create beautiful photo books from your images. Lightroom includes a variety of easy-to-use book templates, and now you can edit them to create a customized look. Upload your book for printing with just a few clicks.

- Video slideshows: Easily share your work in elegant video slideshows. Combine still images, video clips, and music in creative HD videos that can be viewed on almost any computer or device.
Lightroom 5 is priced at $149 as a standalone purchase, with upgrading pricing of $79 available to current Lightroom users. Subscribers to Adobe's Creative Cloud service will also receive access to Lightroom 5 with their memberships.
Lightroom competes with Apple's Aperture software, which is available on the Mac App Store for $79.99. Each successive version of Aperture has seen Apple reduce pricing, moves that drove Adobe to slash the price of Lightroom in half to $149 with the release of Lightroom 4 last year. But with no sign of a new version of Aperture and Apple continuing to price Aperture 3 at $79.99, Adobe apparently remains comfortable with its $149 standard pricing on Lightroom while it also seeks to transition users to its Creative Cloud subscription services.