Adobe today announced several updates to its Creative Cloud suite of apps, including a significant upgrade to Photoshop with the addition of support for 3D printing.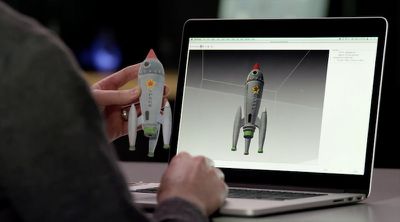 With today's release of Photoshop CC, designs can be printed to a locally connected 3D printer or via built-in access to popular online 3D print services. Photoshop CC supports the most popular desktop 3D printers, such as the MakerBot Replicator, and also supports the full range of high quality materials available on Shapeways -- the 3D printing community and marketplace -- including ceramics, metals, and full color sandstone. Additionally, Photoshop users can now directly upload their 3D models to the Sketchfab 3D publishing service, and embed them in their Behance profile using Sketchfab's interactive 3D viewer.
Other new additions for Photoshop CC include
Perspective Warp
and
Linked Smart Objects
.
Adobe's enhancements to Photoshop CC come as part of a broader Creative Cloud update that sees several other applications receiving upgrades including:
- Illustrator CC: Live Corners, a more intuitive Pencil tool with Path Segment reshaping, and SVG export.
- Indesign CC: EPUB 3.0 support and simplified hyperlink creation and management.
Adobe's Creative Cloud is a subscription service with a variety of plans offering users access to the applications historically made available through the company's flagship Creative Suite bundles. Creative Cloud offers enhanced cloud-based services and mobile integration, with the company deploying regular feature updates to subscribers at a more rapid pace than seen with the traditional standalone software purchase system.