Apple has launched its annual back to school promotion in Australia and New Zealand, offering education customers free gift cards for the company's digital content stores with the purchase of a new Mac, iPad, or iPhone. Gift cards can be used in the App Store, Mac App Store, iTunes Store and iBookstore, and are available in the following amounts:
- Purchase a new Mac except Mac mini or Mac Pro: AU$ 100 or NZ$ 125 gift card
- Purchase a new iPad or iPhone: AU$ 50 or NZ$ 65 gift card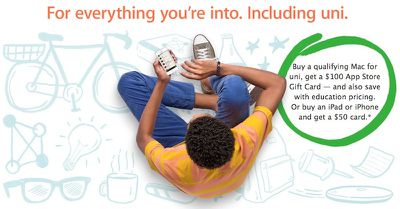 The gift card offer comes on top of Apple's education pricing, which discounts Macs by up to several hundred dollars. Eligible customers include faculty and staff of K-12 and higher education students, as well as students and parents of students at higher education institutions. The program runs through March 20, and all purchases must be made direct from Apple through the company's online store for education or by phone. Australian customers may also make their purchases at Apple retail stores in the country.
Apple offers its Back to School promotion offerings in a number of countries around the world, staggering their timing to match the respective school calendars. The largest version of the program is typically offered in the July-September timeframe for North America and Europe.