How Angela Ahrendts' Burberry Experience Could Drive the Future of Apple Retail
Later this year, Burberry CEO Angela Ahrendts will move to Apple as a new senior vice president in charge of Apple's retail and online sales efforts. Before Apple announced her hiring in October, Fast Company spoke extensively with Ahrendts across several non-Apple related interviews. However, since the announcement, she has unsurprisingly declined any interview requests.
In a wide-ranging profile, Fast Company looks at Ahrendts' job history and work style, the troubles Apple Retail has seen in the past few years, and how her experiences at Burberry could shape Apple Retail's growth going forward.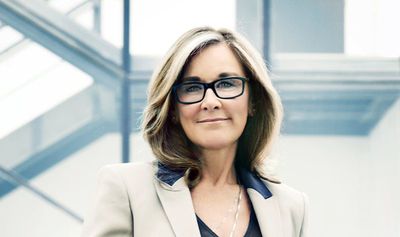 Ahrendts' is not a tech-savvy geek, but she has a vision for how to speak for customers. In an interview with Vishal Sikka, a development executive at SAP, Fast Co. discovered that she exhibits some Steve Jobs-esque tendencies:
She saw a wealth of information... what did customers respond to? What did they like or dislike? What did they share on social media? She thought there must be a way to collect and share such data with the whole Burberry team, as well as combine all six of Burberry's consumer-intel databases into one salesperson-friendly interface. "She wanted to merge the digital experience with the in-store experience," Sikka says. She did not know how to do that herself; she freely acknowledges that she is no digital native nor is she fluent in the language of coders and engineers, but she is very good at asking for help. "She is not a geek. She is not technical," Sikka says. "But she has a vision for things she wants to see, and she has a profound understanding of what technology can do for people."
Beyond that, Ahrendts put extensive amounts of technology into the sales experience at Burberry. She created a back-end system that allows every Burberry salesperson, across 330 stores, to access all the data that the company has collected on individual customers, including data as detailed as whether customers prefer to browse merchandise with assistance or to be left alone.
The company uses RFID tags extensively, allowing customers to bring a piece of merchandise to a mirror and a video will appear with a model wearing the coat. She also oversaw the creation of a website where users can upload photographs of themselves wearing Burberry attire, allowing users to share their looks and potential buyers to imagine themselves in Burberry garb.
Finally, Ahrendts appears to take a page out of Ron Johnson's communicative playbook. Johnson was famous for the videos he recorded to be played to all Apple Retail employees at quarterly staff meetings, and Ahrendts currently does weekly videos for Burberry's 11,000 employees.
At Burberry, she communicates constantly with her 11,000 employees, sending emails to thank them for a particular contribution and frequently jetting to offices and stores around the world (she tries always to be home by Friday night to be with her husband and her kids, who are 18, 17, and 13). She is adamant that significant news be shared first with staff, so that they never learn about their own company by reading the papers. She does a weekly video update--soon, perhaps, Apple staff will joke about how perfect Ahrendts's hair is, just as they did with Johnson. Her main message is usually "thank you." Sometimes that's an epilogue to an all-hands call to action: "I will sit there on the webcast and say, 'Okay, guys, we're nearing the end of the quarter and it's really tight, but I know we're gonna make it because there's 11,000 of you out there,' " she says. "'Could you do me a favor? Just one extra call to a customer? 'Cause if you do that, we'll win.'"
Angela Ahrendts will join Apple this spring and will continue in her role as Burberry CEO until then. In his email to Apple employees announcing the hire, Tim Cook said Ahrendts' shares Apple's values and "focus on innovation" and that she "embraces our view that our most important resource and our soul is our people".
Apple Retail has been without a leader since John Browett was fired in October of 2012.