LaCie today announced the Little Big Disk Thunderbolt 2, one of the first external hard drives that will support Intel's new Thunderbolt 2 specification to deliver transfer speeds of up to 1375 MB/s, significantly faster than USB 3.0 drives.
Little Big Disk includes two 500 GB PCIe solid state drives from Samsung in a Raid–0 configuration and is able to support mobile streaming and editing of both 4K and 3D video. The drive features a fully aluminum enclosure with a Mac Pro-style black finish along with an optimized interior design that improves cooling efficiency.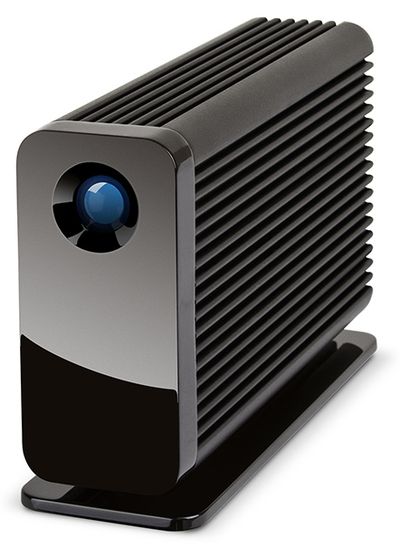 The drive includes a thermoregulated fan that turns on only when necessary, producing little to no noise, and it also ships with an included Thunderbolt cable and a three year warranty.
AnandTech has posted a mini review of the Little Big Disk Thunderbolt 2, and in testing, found 1400 MB/s in sequential read speed along with 1100 MB/s write speed. Engadget saw similar results at CES, observing write speeds of 1200 MB/s and read speeds of 1300Mb/s. A 300 GB file transferred in approximately four minutes.
Thankfully, the drives that were set up ahead of our arrival, and had been sorting files for some time, remained at nearly room temp. With two of the Thunderbolt 2 drives set up in RAID 0, we witnessed 2,000 MB/s write speeds and 2,600 MB/s read numbers.
The LaCie Little Big Disk Thunderbolt 2 will be available during the first quarter of 2014 from LaCie.com. Pricing has yet to be announced.