Mac Pro CPU Upgradeability Confirmed With Processor Swap
Following the release of the Mac Pro, a quick teardown by Other World Computing (OWC) revealed that the tower's Intel Xeon E5 processor was socketed and removable, theoretically allowing for future upgrades. All CPUs in the Mac Pro were found to use the same LGA 2011 socket standardized on the Mac Pro's motherboard.
Today OWC confirmed that the Mac Pro's processor is indeed upgradeable, successfully replacing the default Intel E5–1650 V2 6-core 3.50Ghz processor with an Intel E5–2667 V2 8-core 3.30GHz processor with 25MB of L3 cache, an option not offered by Apple. The upgraded processor gave OWC's machine a 30 percent multi-processor performance boost, outperforming Apple's standard 8-core option with a Geekbench score of 27004 vs. 24429.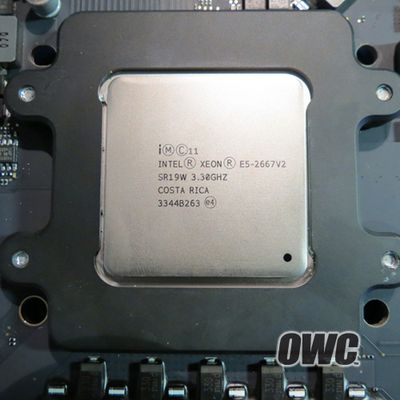 With a replaceable CPU, customers can purchase more affordable lower-configuration Mac Pros that can be updated in the future as processor prices drop. Prices for multi-core processors today remain high, with the CPU OWC used from Intel priced at $2000. Apple's own CPU upgrade options range in price from $500 to $3500. Based on the 3.7Ghz quad-core Intel Xeon E5 with 10MB of L3 cache, pricing from Apple is as follows:
- 3.5GHz 6-Core Intel Xeon E5 with 12MB of L3 cache: +$500
- 3.0GHz 8-core Intel Xeon E5 with 25MB of L3 cache: +$2000
- 2.7GHz 12-core Intel Xeon E5 with 30MB of L3 cache: +$3500
The upgradeable CPU in the Mac Pro is a deviation from standard practice for Apple, with most consumer-oriented Macs featuring soldered processors. Along with a removable CPU, Mac Pro buyers are also able to upgrade memory and other components. In a recent teardown, iFixit gave the Mac Pro a repairability score of 8 out of 10, highlighting the easily accessible internal components and the non-proprietary screws.
Apple's Mac Pro is currently available exclusively through the online Apple Store. Due to low supply and high demand, new orders are not expected to ship until February or later, but customers who placed orders shortly after the computer went on sale have begun receiving units.