Mac Pro Build-To-Order Units Start Shipping to Customers
Apple has begun shipping custom configured Mac Pro units to customers according to MacRumors Forum members, some two weeks after stock configurations began arriving just before Christmas.
According to several posters on the MacRumors forums, a number of custom configured models have seen their order status change to "Preparing for Shipping", which typically happens one day before an actual shipment. A couple have even seen their machines actually ship, with some expected to arrive as soon as today.
Stock configurations ordered early on launch day have been shipping more consistently, while custom orders have seen longer delays.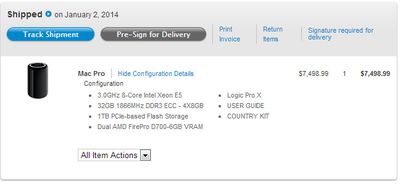 Separately, Electronista reported earlier this week that Apple may not have sufficient Mac Pro units to stock its Apple Stores until March or April. Currently, customers are being advised to order units online and they will ship when available -- estimated ship times for the Mac Pro are currently targeted to February.

Apple's in-demand new Mac Pro will not be available to in store customers until as late as March or April. The information was supplied to us by an Apple Australia business sales specialist who also advised that they are being told to direct customers to the online channel as it the only way that customers can currently secure a new Mac Pro -- the advice also applies to those who may have already placed an order on a unit in store. Apple's online store is still showing that Mac Pros ordered now will not ship until sometime in February at the earliest. The only Mac Pro units to have reached some Apple Stores are demonstrator units and this is not expected to change for some months.
Mac Pro models still show an "available to ship" estimate of February on the U.S. Apple Online Store, while Mac Pro units appear to be out-of-stock at all Apple Retail Stores.
Update: One customer whose build-to-order Mac Pro shipped on December 31 has received the order today.