BlackBerry today announced that it has filed a lawsuit against Typo Products, a company that developed a BlackBerry-esque keyboard case for the iPhone designed to allow users to type with physical keys.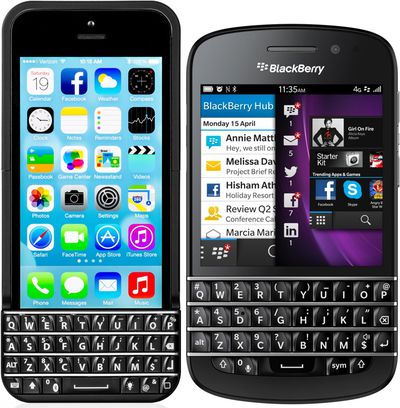 The Typo Keyboard on an iPhone next to the BlackBerry Q10
First announced in
December of 2013
, the Typo iPhone Keyboard Case was created by Laurence Hallier and media personality Ryan Seacrest (of American Idol fame), who reportedly invested $1 million into the product.
As detailed on the Typo's product page, many of Seacrest and Hallier's friends and colleagues carried two phones – one for typing and correspondence and an iPhone for other uses – a problem that the two aimed to solve with the snap-on Typo Keyboard.
According to BlackBerry, Typo has both infringed on patents and "blatantly copied" the BlackBerry keyboard, leading to a lawsuit filed in the Northern District of California.
"This is a blatant infringement against BlackBerry's iconic keyboard, and we will vigorously protect our intellectual property against any company that attempts to copy our unique design. From the beginning, BlackBerry has always focused on offering an exceptional typing experience that combines a great design with ergonomic excellence. We are flattered by the desire to graft our keyboard onto other smartphones, but we will not tolerate such activity without fair compensation for using our intellectual property and our technological innovations," said Steve Zipperstein, BlackBerry's General Counsel and Chief Legal Officer.
Currently, the Typo iPhone Keyboard Case remains available for pre-order for $99 and is scheduled to make its public debut at CES 2014 next week.