'Lucky Bags' Go on Sale at Japanese Apple Stores, Big-Ticket Items Included
Apple Stores across Japan have today begun selling different configurations of the Fukubukuro, or "lucky bag", giving customers the chance to purchase a random assortment of products sold at a steep discount, reports Japanese blog Mac Otakara [Google Translate].
This year's lucky bags, which sell for 36,000 yen, or $345, come in four different configurations with certain items appearing in every bag, including a t-shirt commemorating the event, an Incase City Collection Compact Backpack in a special red color, and a Mophie Juice Pack PowerStation Mini with a design to match the grab bag.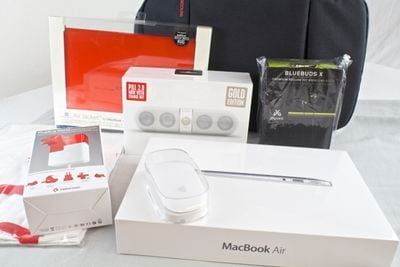 Different items between the bundles however differ greatly, with one configuration of the bag offering a
11-inch MacBook Air
with a
Power Support Air Jacket
, an
Apple Magic Mouse
, and a
Beats by Dre Pill
Bluetooth speaker, and another variant of the bag offering a Wi-Fi only
iPad Air
with
Smart Cover
,
Nike+ FuelBand SE
,
Phillips Hue Starter Kit
, and
Square Reader
.

The other two versions of the lucky bags are highlighted by the inclusion of either a
non-Retina iPad Mini
or
7th generation iPod nano
, with items such as the
Jaybirds BlueBuds X
Bluetooth headphones, the
IZON View
remote camera, and a Logicool (known as Logitech in the U.S.)
Ultimate Ears Mobile Boombox
as well.

Apple's grab bags are sold as is, and returns are not accepted unless a product is found to be defective. Still, the bags have been quick sellers on previous occasions, with many people
lining up
the night before to get their hands on a bag.
As with past years, Apple's Lucky Bag promotion is limited to customers of Apple retail locations in Japan, though other countries, like China, may see the same traditional Apple Store sales
during the new year
.