An Apple Retail Store located in Kurfürstendamm, Berlin was the site of a smash-and-grab robbery earlier this morning, reports Bild.de [Google Translate]. At 4:15 AM, thieves reportedly crashed an Opel Corsa supermini automobile into the store and proceeded to steal display iPhones, iPads, and computers before fleeing in two Audis.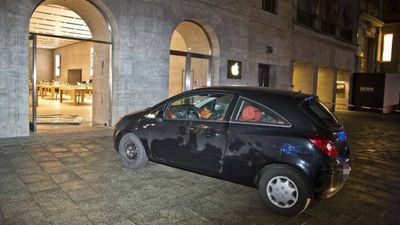 The report also notes that there have been seven such robberies in Berlin as of late, including a heist at the Alexa shopping mall located in Alexanderplatz, Berlin where theives made off with over 100,000 euros worth of goods.
With Apple gadgets fetching a high price on the secondary market, thefts of individual devices in muggings are common. However, organized robberies on Apple Retail Stores are usually uncommon.


The smash-and-grab robbery on the Kurfürstendamm Apple Store is also similar to the robbery that took place at Apple's Promenade Temecula retail store in Temecula, California last year, where robbers also used a car to obliterate the entire front glass and security grating of the store before making off with merchandise. It is likely that the Kurfürstendamm store will close for cleanup and repair for a short while before opening to the public again.