Twitter for Mac was today updated to version 3.0, adding several new features plus a revamped look and feel to bring it more in line with the Twitter for iOS app.
The app has gained display previews for Twitter photos, along with a detailed view for Tweets that offers photos, other Tweets in the conversation, and favorite and retweet counts. Profiles have also gained a new look, with a profile banner header that includes more detailed information on each user.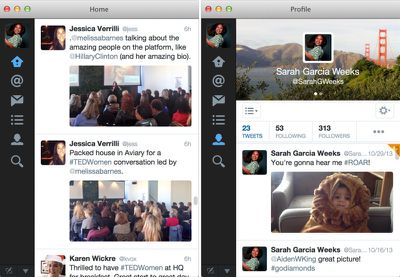 This release comes with a number of enhancements and changes.

More visual and engaging timelines
- Previews of Twitter photos will be front and center in Tweets. To see more of the photo, just click. If you want to disable previews, just go to preferences and uncheck "image previews."

Get more from Tweets
- Check out the tweet detail pane to see the conversation around a tweet as well as favorite and retweet counts.

Beautiful profiles
- Profiles now show header photos to display the unique personality of every user. Learn more about them by seeing who they follow and are followed by, their lists, and their custom timelines.

Updated design
- We've refreshed the overall look and feel of the app.
Prior to today's update, Twitter for Mac's last major update was in April of 2013 to add Retina support and improvements to photo sharing. Before that, the app went without an update for nearly two years.
Twitter for Mac can be downloaded from the Mac App Store. [Direct Link]