iTunes Match Expands to Finland, Denmark, Norway and Sweden [Updated]
Apple has recently expanded iTunes Match availability to several Nordic countries, according to both reports on Twitter and tip from a MacRumors reader.
iTunes users in Finland, Denmark, Norway, and Sweden now have access to the service, which has a yearly price of 249 kr in Denmark, Sweden, and Norway and €24.99 in Finland. In comparison, iTunes Match is $24.99 in the United States and £21.99 in the U.K.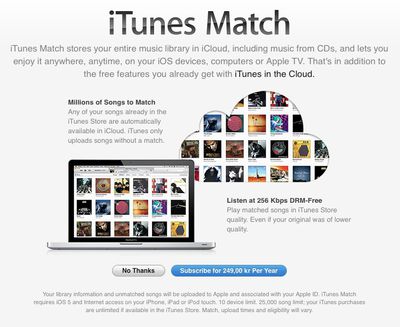 First introduced in late 2011, iTunes Match allows iTunes users to match their existing iTunes libraries with high quality versions of songs from Apple's iCloud. After matching, content is available in iCloud and can be accessed from any device.
Finland, Denmark, Norway, and Sweden have also gained access to purchased music in iTunes in the Cloud, allowing previously acquired music to be downloaded on all devices.
With the introduction of iTunes Match and iTunes in the Cloud for music to additional countries today, only a few countries where Apple sells music are lacking iTunes Match or iTunes in the Cloud functionality. In Romania, Apple sells music but does not offer iTunes in the Cloud or iTunes Match, while customers in Japan can purchase music and download it via iTunes in the Cloud but cannot access iTunes Match.
All other countries where Apple sells music via iTunes now have access to both iTunes in the Cloud for music and iTunes Match. Subscribers in countries where iTunes Match is available can sign up for the service within iTunes. [Direct Link]
Update: Apple has also expanded iTunes in the Cloud support in Bulgaria and Portugal to include movies.