Screen Sharing Now Available on Apple Support Site
Apple today enhanced its Apple Support site with a new option allowing customers to initiate automatic screen sharing when receiving help on a Mac via phone call, giving customers more control over their Apple support experience and facilitating quicker, more accurate responses from support staff.
Selecting the screen sharing box prompts a temporary download that will allow screen sharing to begin when a support call is initiated by Apple, though customers can choose to disallow screen sharing with an Apple representative by not checking the box. Screen sharing can only be used on voice calls and is not an available option for chat sessions.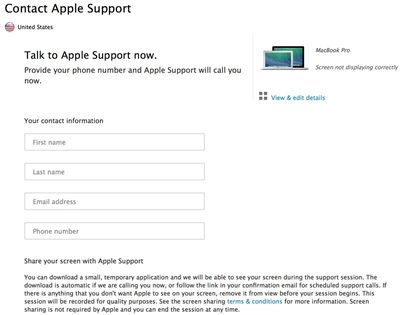 As noted by 9to5Mac, the new automated website selection replaces previous screen sharing protocols, which involved AppleCare representatives asking customers to opt into screen sharing only when necessary. Choosing to use screen sharing is now a customer decision, and while customers were previously able to request screen sharing options, the new checkbox makes the process simpler.
Customers have always been able to request screensharing, at which point the AppleCare representative would instruct them to download an application from Apple's site that facilitates the connection. Now the download is listed directly on the support page. If a customer opts to use screensharing, the AppleCare rep must comply with their request whether they think it will help or not.
In addition to screen sharing, Apple has been making other significant changes to its support site in recent months and in August, the company launched a redesigned AppleCare website with simpler interface and 24/7 live chat support.