Boost Mobile Offering $200 In-Store Discounts on iPhone 5s and 5c for Switchers
In line with previous announcements, Sprint prepaid subsidiary Boost Mobile began offering the iPhone 5s and iPhone 5c today, marking the first time the brand has offered any model of iPhone for sale.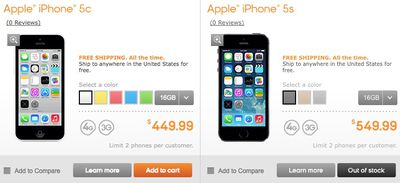 While Boost's standard pricing available online already includes a $100 discount on every model compared to Apple's standard pricing for unsubsidized models, the carrier is offering an additional $100 off through November 24 to customers who are switching from another carrier and who make their purchases at one of the brand's retail stores.
It is the perfect time to switch to Boost Mobile as now through Nov. 24 new customers who come into a participating Boost Mobile store and switch to Boost Mobile from another carrier will be eligible for a special in-store promotion of $100 off any device bringing new customers additional cost savings.
The in-store promotion for switchers brings the entry-level cost of the iPhone 5s down to $449.99 and the iPhone 5c down to $349.99. For service, Boost Mobile offers a $55/month contract-free unlimited talk/text/data plan, although data is throttled once users reach 2.5 GB in a given month. Customers can also reduce their monthly fees by making on-time payments, with Boost reducing the charge by $5 for every six on-time payments made, down to a minimum of $40/month after 18 months.
While iPhone 5c supplies are plentiful, potential Boost Mobile customers are likely to have a harder time tracking down supplies of the iPhone 5s, as is the case throughout Apple's distribution network. All iPhone 5s models are currently listed as "Out of Stock" on Boost Mobile's online store.
Boost Mobile is not the only carrier to launch new sales of Apple's latest products over the past couple of days, as U.S. Cellular is now carrying Apple's full lineup of iPhones and cellular-capable iPad Air and non-Retina iPad mini models. Socially active mobile virtual network operator CREDO Mobile, which runs on Sprint's network, has also begun offering the iPhone with on-contract pricing discounted $50 compared to standard Apple pricing.
Mississippi-based regional carrier C Spire, Alaskan carrier GCI, and Kentucky-based regional carrier Bluegrass Cellular have also begun selling cellular-capable models of the iPad Air.