Apple Researching Low Power Bluetooth Hotspots for Devices Like the iWatch
Apple has filed for a United States patent detailing a system for allowing a device to access and share a remote network with a second device using the low-power Bluetooth LE protocol, reports AppleInsider. The patent application was published today and credits Apple engineers Daniel Borges, Jason Giles, and Michael Larson as inventors.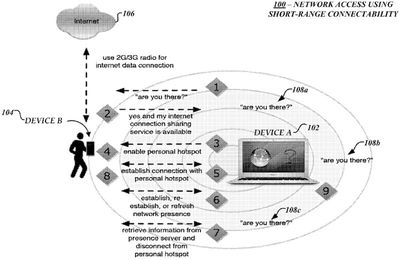 Notably, the application mentions a first device acting as a hotspot and having short-range connectability with a second device, with the second device having access to remote networks. This would be very similar to the rumored interaction between Apple's upcoming iWatch and a second iOS device such as the iPhone, with the iWatch serving as an accessory and giving users easy at-a-glance access to common functions without having to take out larger devices.
The described technology would seem particularly apt for providing intermittent Internet access for the iWatch, allowing it to take advantage of low-power Bluetooth to only intermittently connect to the Internet using an iPhone as a hotspot rather than having to host its own cellular or Wi-Fi connectivity.
The proximity profile defines a proximity notification alert that the supporting device sends to the device to advertise its shared access service to the network for devices within range. In one embodiment, upon receiving the proximity notification alert the device joins the supporting device's shared access service and briefly connects to the network to receive push notifications or other messages, before disconnecting.


The patent also details how a low-power connection protocol such as Bluetooth could prove to be advantageous as the first device remains in a low-power background mode while connecting to a network with the ability to receive push notifications:
In one embodiment, the short-range connectability to the supporting device is provided over a low-power enabled connection protocol such as Bluetooth. In a typical embodiment, the device is able to maintain itself in a low-power background mode while joining the supporting device's shared access service and briefly connecting to the network. In this manner the device may perform such activities as establishing intermittent network presence for receiving push notifications and other messages or updates, or for engaging in other network-related activities while advantageously remaining in low power mode.
Apple has long been rumored to be working on the iWatch, which is expected to provide common functions along with additional biometric integration in addition to serving as an accessory to iOS devices. Apple CEO Tim Cook stated during the company's fourth quarter earnings call last month that Apple still plans to introduce new product categories in 2014, which is a likely timeframe for the release of the iWatch as previously indicated by multiple sources. A report last week also indicated that Apple was close to striking a deal with LG Display to provide OLED displays for the device.