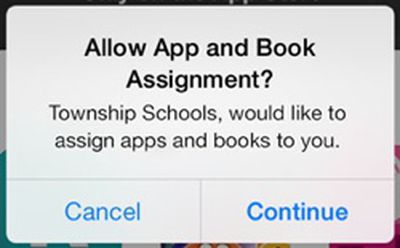 Following the late October launch of Mavericks, Apple has implemented new changes to its Volume Purchase Program for Business and Education, expanding the program to the Mac App Store for the first time and launching new "Managed Distribution" capabilities for iOS 7 and Mavericks that allow institutions to assign and revoke app licenses to individual users. The company has begun sending emails to its education and business customers, notifying them of the changes.
Hello Education Technologists,

I wanted to be sure to send this information regarding another part of the iOS 7 and Mavericks updates to become available. There is a guide available as well for more detail. As I've discussed with many of you, it's now time to consider a Mobile Device Management Solution (MDM) moving forward.

Volume Purchase Program for Business and Education:

New features available.

The Volume Purchase Program (VPP) for Business and Education has been updated to support iOS 7 and OS X Mavericks. It now features:

- Managed distribution—Install and assign apps using Profile Manager on OS X Server or third-party mobile device management (MDM) solutions

- Mac apps—Now available on the VPP store

The VPP pages on Apple.com have updated program information, including direct links to enrollment and program login for registered participants.

Volume Purchase Program: Migrating from redemption codes to managed distribution - http://support.apple.com/kb/HT6015
Apple began preparing developers for the launch of the Mac Volume Purchase Program in early October, allowing developers to introduce discounts for bulk purchases as is possible in the iOS App Store.
As noted by Enterprise iOS, Apple's new mobile device management (MDM) options are compatible with the majority of apps and books from the App Store and require MDM systems to be updated to work with the new options. Assigned apps are downloaded automatically to supervised devices, and app assignment does not reveal Apple IDs.
Apple has also updated both the Business and Education Volume Purchase Program pages on its website to reflect the changes, providing enrollment options and help documents on the Volume Purchase Program and mobile device management solutions.