Back in 2010, Apple debuted a volume purchase program for its iOS App Store, designed to allow educational institutions and businesses to purchase iOS apps in bulk. With Mavericks, the company is planning to expand its purchase program to the Mac App Store.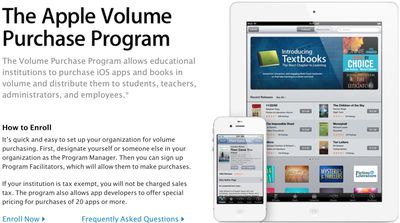 The App Store Volume Purchase Program now offers institutions the ability to assign apps to users while keeping full ownership and control over app licenses. Institutions purchase app licenses through the VPP website, and can use their MDM solution to assign apps to students, faculty, and staff over the air. Students can enroll with their personal Apple IDs without providing it to their institution, and apps are placed in their purchase history for self-service download, or are installed automatically via MDM. Apps can be revoked at any time and reassigned to other students. In addition to iOS apps, VPP now also supports the purchase of Mac apps and even books, so students can be provided all the tools they need to get their work done.
As the release of Mavericks approaches, Apple sent an email to Mac developers (via 9to5Mac) with instructions on how to prep for the upcoming launch of Mac App Store volume purchases.
We're pleased to announce that Mac apps will soon be eligible to participate in the Volume Purchase Program for Business and Education. The Volume Purchase Program allows businesses or educational institutions to purchase multiple copies of your app at once.

You may also offer a discount to educational institutions for multiple purchases. If you choose to offer a volume discount for an app, institutions that purchase 20 or more copies of that app in a single order will receive a 50-percent discount.

Your existing Mac apps will not be automatically enrolled in the discount for educational institutions. If you would like to offer your existing Mac apps at a discount for the Educational Volume Purchase Program, check "Discount for Educational Institutions" in the Rights and Pricing section of the Manage Your Apps module on iTunes Connect.
Under the terms of the program, Mac developers will be able to implement educational discounts to bulk app purchases in iTunes Connect, allowing institutions that purchase 20 or more copies of an app to get a 50 percent discount. Previously, bulk purchases of Mac apps were not available, with the exception of Apple's own apps.
OS X 10.9 Mavericks is expected to launch at the end of October and includes a number of other features for education and enterprise users, including single sign on, Caching Server 2, and new MDM configuration options.