Online Apple Stores in U.S., Canada, and Europe Go Down Ahead of iPad Air Launch
Apple's Online Store is down in the United States and several other countries to prepare for the launch of online sales of the iPad Air. The iPad Air, which will be available to consumers in a few short hours, is Apple's new flagship thin-and-light tablet that comes equipped with an A7 processor, the M7 coprocessor, and upgraded MIMO Wi-Fi.
As Apple prepares to launch the iPad Air, prospective buyers around the country have begun lining up outside of Apple Stores. Supply of the iPad Air is expected to be plentiful, with even some standard mall stores receiving shipments of up to 1000 units.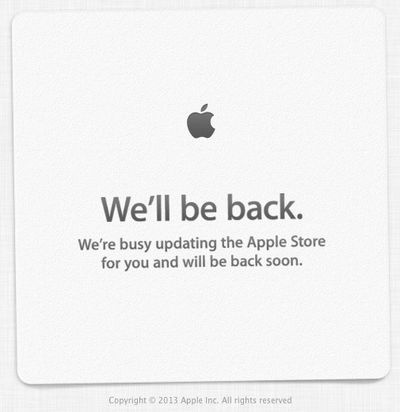 The iPad Air launched in several other countries earlier in the day and stock remains steady in those online stores, with shipping times still listed at 24 hours, aside from Hong Kong, where the tablet has sold out.
Apple will be accepting day one Personal Pickup requests for the first time ever with the launch of the iPad Air, which means consumers can reserve an iPad Air online after 12:01 AM and pick it up later that same day.
The Online Apple Store is expected to come online and accept orders at 12:01 AM Pacific Time, or 3:01 AM Eastern Time. In store sales will begin later in the day, at 8 AM local time.