Apple's Online Stores in Asia-Pacific Go Offline Ahead of iPad Air Launch
Ahead of the launch of the iPad Air just hours from now, Apple's online stores in the Asia-Pacific region have been taken offline. Countries in the region where the device will be launching include Australia, China, Hong Kong, Japan, Macao, and Singapore, although all online stores in the region are currently down.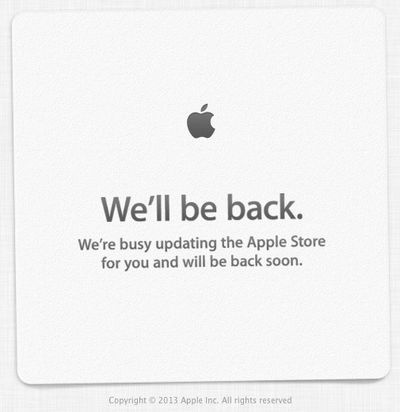 Apple's in-store sales will begin at 8:00 AM local time in countries where the company operates its own stores, and online store outages should work their way across the world later today with separate batches for Europe and North America.
Apple's November 1 launch for the iPad Air is taking place in over 40 countries: Australia, Austria, Belgium, Bulgaria, Canada, China (Wi-Fi models only), Croatia, Cyprus, Czech Republic, Denmark, Estonia, Finland, France, Germany, Greece, Hong Kong, Hungary, Iceland, Ireland, Italy, Japan, Latvia, Liechtenstein, Lithuania, Luxembourg, Macao (Wi-Fi models only), Macedonia, Montenegro, Netherlands, Norway, Poland, Portugal, Puerto Rico, Romania, Singapore, Slovakia, Slovenia, Spain, Sweden, Switzerland, United Kingdom, and United States.